At Turner Timber, we offer a range of 4 different wall options, with something to suit every project and requirement.
We are also able to work with you to create a bespoke wall build up ie Breathable, increased depth, twin stud, or metal web.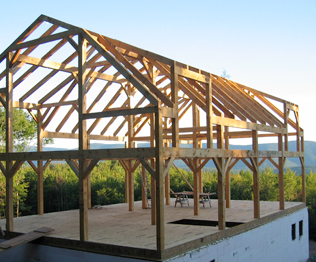 All our high performance wall panels are precision manufactured to exacting standards from the same top quality, sustainably sourced, kiln dried vac vac treated CLS timber.
Designed to be able to meet and beat all current building regulations, the frames provide plenty of space for insulation, and come together to create the strong, thermally efficient structure for your build.
The walls to your home can come either Pre insulated or left for you to fit your own insulation.
Pre Insulated Panels
By far our most popular option, save time and money with precision factory fitted insulation, we use brand leading PIR insulation such as Kingspan, Rectocell or Ecotherm to ensure you receive the most thermally efficient home.
Standard
Strong, dependable and economical
Our standard package is our most cost-effective timber frame. Strong, sturdy and dependable, it's a tried and tested product that will beat all current building regulations.
When pre insulated with our 120mm PIR insulation you can achieve a thermal efficiency U-value of 0.22, it compares favourably with traditionally built block and build structures.
DOWNLOAD TECH INFO